Closed laser welding machines – Medium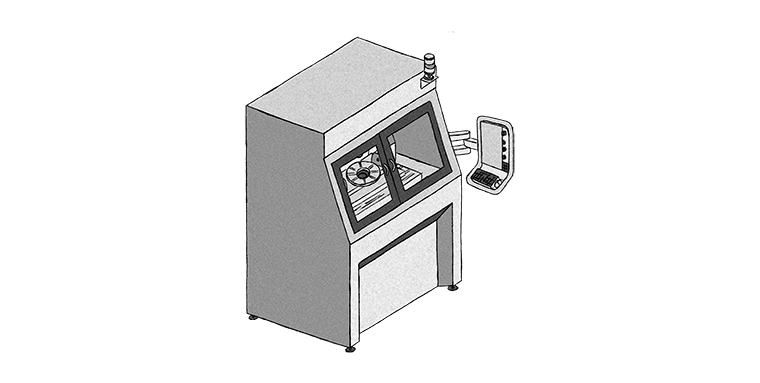 For medium-sized components
Mineral casting monoblock basic kinematics
Highest precision, rigidity and repeatability
Description
The GLA series represents a fully housed CNC laser system with up to 5 NC axes for welding, cutting and marking applications of all kinds. The larger GLA-M, despite an enlarged working area by a factor of 3 compared to the GLA-S, has a machine footprint of only approx. 1.2 square meters. The machine housing complies with laser protection class 1 and is designed for the reliable yet flexible production of medium-sized components. Despite the compact footprint, the machine cell made of aluminum system profile offers maximum precision, rigidity and repeatability in the work area thanks to 3-axis basic kinematics made of a mineral casting monoblock. The optionally available rotary-swivel bridge of the GLA-M enables the use of up to 5 fully-fledged CNC-controlled axes.
Handling
The system is operated using WPT's own touch panel, which centrally controls the machines as well as the laser functions.
The panel has an integrated haptic keypad for the main movement functions of the system. For the teach or setup mode, an optionally available joystick is available, which allows new products to be programmed directly at the machine within a few minutes in an innovative, fast and flexible manner.
Technical data
Footprint
Approx. 1200x1000x2350 mm (B/T/H)
Working area
540x440x350 mm (W/D/H)
Workpiece weight
3 axes: Max. 50kg / 5 axes: 10kg
Travel
500x400x250 mm (X/Y/Z)
Machine control
WPT CNC control
Operation
WPT touch panel + keyboard + mouse + haptic keypad
NC drives
Closed-loop stepper motors (high precision)
Safety functions
Control integrated & real time monitored
Safety sensors
Exhaust monitoring, machine enclosure monitored
Machine body
Mineral casting monoblock
Machine enclosure
Steel plate, color RAL 7016 (others on request)
Machine door
Manually or automatically executed
Viewing window
2x generously designed laser protection windows
Ergonomics
Designed for half-seat and standing operation
Laser source & welding optics
Customer & application specific
Extraction system
Customer & application specific
Machine equipment
Konfigurierbar über Ausstattungsoptionen
Anfrage / Request
Ich interessiere mich für eine Fertiglösung von WEISSER / I am interested in a ready-to-use solution from WEISSER